Packing for a trip is a situation that is often over wrought. People tend to think that they will NEED everything before they go and it won't be possible to find or buy anything when you get abroad. Of course, this ends up always not being the case. Packing should be done light for movement… the main thing to remember is less is more. This blog will discuss a few tips for packing before you leave while also offering a few thoughts on travel relationships.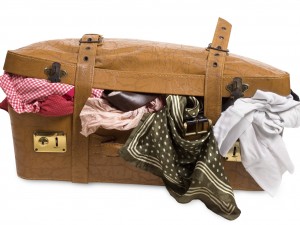 Packing before you go 
– The number one piece of advice in this department is keep it light. What do you really need? Keep the clothing minimal, the books you're going to bring (which are always cumbersome and heavy) few, and the electronics nonexistent or also minimal.
– Don't pack anything that you wouldn't be willing to lose. Not that it will happen, but expensive things – especially expensive cameras and lap tops – are items that more often than other things disappear. They will always be safe though back in your room at home.
– Don't over pack things like toiletries and under clothes. These things can be bought where you are going, perhaps even much cheaper than at home.
– Bring cable ties, zip lock bags (of varied sizes) and a mesh bag with you. Cable ties are great for holding thing together. A zip lock bags, aside from your main backpack and day pack, can help separate damp clothes – mainly your towel – from the rest of your bag. A towel from your morning shower thrown directly in your bag will make everything smell mouldy. A mesh bag is great to carry, and separate, your laundry in to.
– Pack a sarong with you. It can have multiple uses as a make shift bed sheet, a towel in a pinch, or a beach/park blanket.
Relationships while Traveling 
– Just cause your own the road doesn't mean that you won't remember the things that you have done. It's your choice, but sex with multiple people isn't a cure for loneliness, it might actually increase it.
-Don't expect to meet your life time partner while on the road. Travel relationships, though not insurmountable, always have the issue of distance when both parties are back home.
– Try to make lots of friends and connect with people as much as you can. The people you meet abroad perhaps may end up being the only people who will truly understand the experience that you will have.
– Taking a trip to heal a broken heart is not advisable. A traveler has to be clear minded and focused not off kilter emotionally.