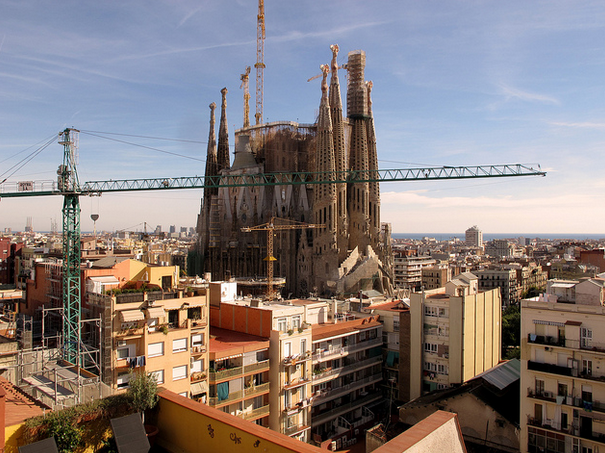 by  jacilluch  Caption: Barcelona's Sagrada Família
There is no denying that Barcelona is a vibrant and colourful city with a pulsating nightlife. It is almost an irresistible proposition to party until the sun has risen and to only remerge again when it has started to sink.
At night, Barcelona's scorching temperatures become bearable, the sound of music begins to drift across the cluttered pavements and lights sparkle from every direction. Barcelona is undeniably known as a party city with a variety of drinking establishments to match this reputation. However, there are still attractions to discover even after the sun has emerged from its slumber.
So, to help those who feel they have spent the majority of their time in Barcelona under a cover of darkness, or cloud of intoxication, here are three daytime destinations to visit in this beautiful city.
Camp Nou
Camp Nou Stadium is home to internationally renowned soccer team of Barcelona, who currently have odds of 1/2 to beat Atletico Madrid this weekend according to football betting website Bet365. Camp Nou is presenting the seventh largest stadium in Europe and is one of the most highly-attended sport's venues in the world. Moreover, this colossal stadium is about to get even bigger, with construction already under way to bring the total number of seats to over 100,000. Spain is a country that loves football, and Barcelona is perhaps the most beloved Spanish team. Therefore, whilst the stadium itself is spectacular, and the on-pitch action world class, you don't even have to enter the Camp Nou itself to feel the amazing atmosphere it generates. Merely set-up camp in one of the many courtyards surrounding the venue and watch the excitement, anticipation and tension build and accelerate around you. It is truly electrifying and the celebrations after are magical.
Carrer de Tallers and Carrer de La Riera Baixa
Barcelona is a stylish city and its fashionable shopping destinations of Gràcia and Portal de l'Àngel, which deal mainly in designer clothing, are well known to fashionistas around the world. However, for those who like fashion quirky and a good bargain, it is the backstreets of Carrer De Tallers and Carrer de La Riera Baixa that will interest you. These connected streets host the largest concentration of vintage shops in Barcelona. These shopping establishments, which range from overspilling thrift shops to sparse boutiques, are filled with retro looks and classic styles. Barcelona has always been largely on the pulse, when it comes to fashion, so don't be too surprised to find all the latest vintage trends.
Sagrada Família
Perhaps the most anticipated completion of any building in the world, the spectacular Sagrada Família has been itching towards completion for over a decade. The final project of iconic Catalan architect Antoni Gaudi, who died in 1926 when he was hit by a tram, this striking cathedral is a masterful fusion of styles and eras. Although still not predicted to be completed till 2026, the Sagrada Família's completed elements are still breathtaking. The cathedral's look is an unusual interpretation of traditional Gothic architecture, with the angular look of this classic style smoothed or removed completely. This stylish departure makes the look of the Sagrada Família completely unique amongst cathedrals.