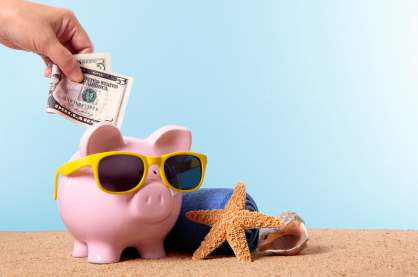 Travel can be expensive. But that's for the rookies. Seasoned travelers know how to squeeze the most out of every penny, staying on the road for lengths of time that baffle the people back home. The key is to know how to find excitement without paying for it, making it count when you do spend money, and knowing how to make money while away from home. Travel never goes as planned, but if you are able to improvise and plan ahead, you'll be able to have time of your life for very little money.
1)      Release Your Inner Outdoorsman. Enjoying the great outdoors is one of the best ways to have a life-changing time without spending a lot of money. There are great natural wonders all around the world, for every level of adventurer. From the Teton Spirit to the Cliffs of Dover, there is no end to what you can see out there, whatever country you find yourself in. There are several approaches to this. You can learn how to live outdoors in tents for extended periods of time, eating and drinking from your provisions and off the land. You can also use hikes and excursions as free ways to spend your time, away from the expensive bustle of foreign cities. Even if you don't spend your nights under the stars, you just need cheap accommodations if you spend most of your days outside. Find your destination of choice and spend some time researching outlying regions. This is the stuff memories are made of, and much of it is free.
2)      Work and Travel. Many countries around the world have great need for English instructors. Some companies will even pay to fly you over, house you, feed you, as long as you teach a few classes a week. The rest of your time is your own. Some people forego formal employment and organize their own language classes, either given online or in one-on-one situations in homes. Of course, foreign language teaching is just one of many ways you can make your money while you travel. Many people work as freelancers – writing, designing, editing, creating – in order to finance their travel without going broke. Many find it is cheaper to live abroad than it is to live back at home. Some rent out their houses back home in order to pay for much cheaper housing in another country. Using your life and skills from back home as an engine to fuel your travel is one of the best ways to make it work.
3)      Go Places People Don't Typically Visit. There are lots of places around the world that everybody goes to. As such, these destinations are going to be much more expensive, having built industries around tourism. If you are a seasoned world-traveler, you are no longer a tourist. You can adapt to locations where visitors rarely tread. Put your finger down on a map and learn how to go search out the best stuff, wherever your plane lands. There are always great people, good food, and beautiful sites, anywhere there is habitation.
Travel doesn't have to be expensive. It's a luxury, but it's more affordable than most people realize. Once you cover the travel, being in another country can be very easy on the budget. You just have to have the right attitude and expectations.