A trip to Africa is an exciting endeavour for many people. At the bottom of the continent in the nation of South Africa is one of the continents gems, Cape Town. Blessed with an unusual combination of natural beauty and cosmopolitan style this is a city that calls out to travelers from all corners of the globe. See the unique African animals, take in the night life and restaurants, or just enjoy a cable car ride to the top of the nearby, and iconic, Table Mountain. Below are a few suggestion of things that you can do while visiting Cape Town.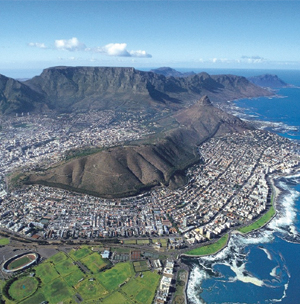 Take in one of the South African Sports –
Head to Athlone Stadium or Newlands to watch a rugby or soccer match. In particular if Cape Town is playing their national rivals in Johansburg the stadium will be filled with a passion that you will not soon forget. If the opportunity presents itself also go to a cricket match. Cricket is a game of skill and patience and is great for spending a relaxing day outside on the grounds with friends.
Go Diving in the Cape Town area –
False bay provides warmer water to dive in and see the varieties of unique fish, coral, kelp beds and seals while also exploring ship wrecks, caves, and drop offs. Learning to dive in this region or diving more will be an amazing way to connect to the aquatic realities, which are second to none, of Cape Town. If you are particularly adventures go to Gansbaai where you can try shark cage diving. The question is would you actually want to see a shark up close and personal?
Table Mountain National Park –
Table Mountain national park stretches from the iconic flat topped Table Mountain to Cape point. Inside the park are varied opportunities for canyoning, camping, and touring to see exotic animals that habitate this region. A lot of visitors to Cape Town are content to just traveling to the top of the beautiful Table mountain to enjoy views over the city and to two bays representing two different oceans. The table car travels up the 1086 meter mountain and runs every 10 – 20 minutes.
Boulders Beach –
Taking its name from the large numbers of boulders surrounding the beach Boulders Beach is where you can see penguins. Tucked away into one of the many sandy coves is a population of 3000 African penguins. It is possible to observe the penguins from the boardwalk of Foxy Beach – where you can find accommodations and places to eat – or, directly at Boulder Beach.