A city that is filled with beach life, cosmopolitan diversion, and world class attractions like the San Diego Zoo San Diego is a delight for travelers. Regardless of your tastes there will be a variety of options for you to have a good time. This article aspires to provide some much needed direction and point you towards a few interesting things that you can see and do while in San Diego. More things to do in San Diego include: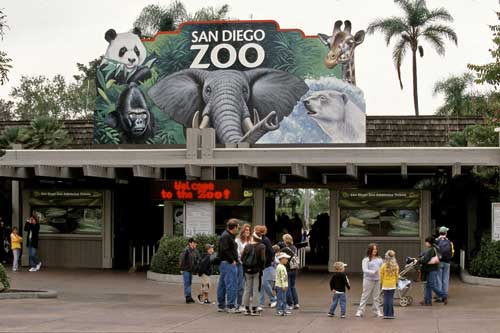 San Diego Zoo and Safari Park
2929 Zoo Drive | San Diego,
With more than a 100 acres of expanse the San Diego Zoo and Safari Parks is one of the finest of its kind in the United States. Famous for having expansive and naturally realistic habitats, the San Diego Zoo has more than 4,000 creatures inside its confines including crowd favourites like elephants, polar bears, and pandas. Just north of the San Diego Zoo is the Safari Park which houses, in larger more open terrain, several of Africa's most adored animals – such as cheetahs, lions, and elephants. Give yourself a long time to explore the zoo as there is an expansive system of trails to wander along including the Forest Tales Walk and the Monkey Trails. If you don't want to walk all day long there are also guided bus tours and even a skyfari aerial cam that keeps an eye on the action in the Safari Park while you are a safe distance away. The zoo is located in the northwest corner of Balboa Park and is open from 9 a.m. until 5 or 6 p.m – depending on the season.
Museum of Contemporary Art – La Jolla
700 Prospect St. | La Jolla, CA
For a great combination of wonderful modern art and fantastic views over the city and the Pacific Ocean visit the Museum of Contemporary Art. The permanent collection of the museum houses more than 4,000 paintings, photographs and sculptures. Not displaying "conventional" art, the museum also has a variety of film and multi-media exhibitions as well as numerous special events each year. The Museum of Contemporary Art is open each day – except Wednesday – from 11 am until 5 pm.