There are certain cities in Europe that couples clamour to as they have that wonderful sense of romance and excitement. Fantastic cityscapes and beautiful country sides bring couples into each others arms as they bask in a shared moment of beauty and awe. Couples love to end up in those magical squares in cities like Florence and Paris where they eat dinner under a warm sun watching intrigue in front of them. The cities that really are the most romantic in Europe are.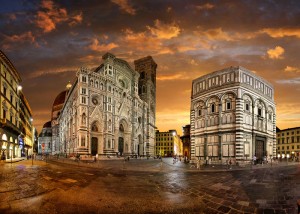 Florence 
Nestled comfortable inside the hills of Tuscany is the glorious city of Florence. Couples walk through Florence's fantastic facades stopping at the Ponto Vecchio bridge, the baptistery and the Duomo hand in hand the hearts high. The beauty of this city intermingles with the warm sunshine and the Florentine wine to create a sense of utter and unstoppable romance.
Paris 
Paris has long been known as the city of love. Strolls along the wonderful river Seine and into the varied corners and squares of Paris have been cementing love for centuries. Take your romance to a new level while wandering the iconic museums of the city or having a lavish meal in an elegant French restaurant. Even the Eiffel Tower plays its role, taking on a more romantic persona, as it gets lit up at night.
Santorini 
The stark yet beautiful landscapes of Greece have been inspiring romance for millennia. No where better is love found then on one of Greece's islands the idyllically perfect Santorini. You and your betrothed will have the chance to sip win on the red beaches of Santorini looking out over some of the worlds most perfect sun sets over the Mediterranean.
Venice 
The water gondola goes under the bridge and the couple kisses as tradition dictates this is the wonderfully romantic city of Venice. Venice is a city a float above water with canals and bridges everywhere and effortless old world charm. A night in a Venice villa is one that will not soon be forgotten.
Budapest
Given the nickname of "the Paris of the East" Budapest has long been attracting love birds to its storied streets. Filled with history, art and old world elegance couples walk along the wonderfully beautiful castle hill then enjoy a thermal bath together. Budapest also has a great food scene.
Prague 
A lovely city filled with some of the best examples of gothic architecture in the world. Couples have long been walking across the romantic Charles Bridge, looking at the beautiful castles, and enjoying meals in the quaint historical squares.