All the planning and sacrifice for travel have happened, you're now in your destination about to get off the air plane. Building to this point has been a major part of your life for sometime and now it is happening – so what now? From experience I can say that getting abroad for the first time can be an experience fraught with uncertainty. When I first got to Heathrow my head was scolding and it took me probably two hours plus to figure how to get out of the airport and on to the bus I needed to take. In the hope of avoiding that unpleasantness, I can offer some suggestions.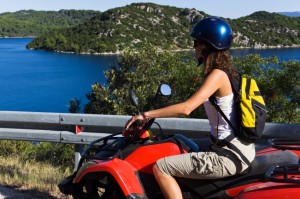 Take a deep breath 
First things first, take a deep breath and relax. If you sit down for a minute and just think of what you need to do next the world isn't going to explode. A good time to catch your breath is after your clear customs and you are waiting for your bag. Right then you'll have a few minutes to enjoy the experience and hopefully let the anxiety abate itself.
Go to where your hostel/hotel is booked and got comfortable 
Once you have your things concentrate on getting to where you are staying. If you are a budget traveler this will be more difficult than you think as a cab is a crusher to anyone's budget and is the move of a person who will not be traveling very long. Take out your guide book and follow the instructions given for how to reach your lodging. This is your first test and will provide a reward of confidence once it is complete. If you are really struggling it's okay to call the hotel or hostel to ask direction as they usually will have some one that speaks English.  Once you get to your hostel/hotel make yourself comfortable. You've come along way and you need some rest.
Get your bearings than make a plan to stay
Perhaps this applied more to the long term traveler, but this advice is important. First, walk around the city you are in – get your bearing for what is what. Important things to locate near to where you are staying are a grocery store, a laundry mat, and a good pub. Once you have a basic geometry of the area start formulating your plan how you will be able to stay. Ask yourself questions about the types of work you can do and the types of work that are available. With thought you can fit yourself into some kind of work and because of that be able to stay and be a traveler.