Edinburgh is a diverse city with a lot of different niches for the unconnected visitor to the city. The following post will dictate a few of the ways that locals soak in this storied cities vast arts scene.  If you are a visitor to the city and want to see something off the beaten path many of the selections can give a unique experience.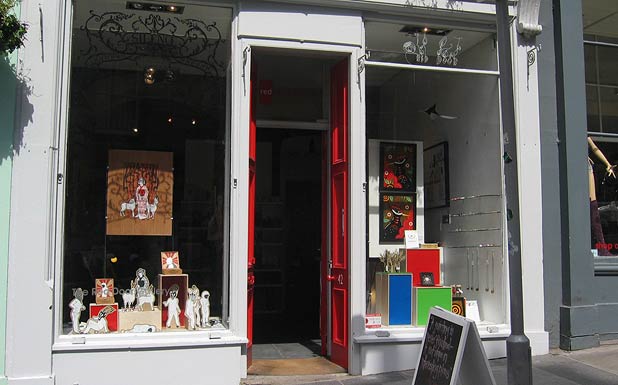 The Bead Shop | Art & culture, Shopping
6 Dean Park Street |             +441313433222
Mon – Wed & Fri 10:00 – 17:30, Thu 10:00 – 19.00, Sat 09:00 – 17:00, Sun 12:00 – 16:00
A shop that sells every type of bead that one could ever imagine. The bead shop is a must visit for jewellery designers, arts & crafts fans and creative types in general. The materials and the know how or here to create, or learn how to create, all varieties of different jewellery and crafts. Purchase here all sorts of pendants, watch faces, Japanese Miyuki craft kits, fimo, needles, chains, threads, craft books – basically anything you need to complete your creations. It's also possible to take classes here on how to make different things.
Red Hot and Blue Tattoo | Art & culture | Black/white pistol £ 180
1A Brougham Place |             +441314777753
Mon – Sat 10:00 – 18:00
Red Hot and Blue Tattoo is a new but already very popular tattoo parlour in Edinburgh. With truly talented tattoo artists this shop does a lot of custom work especially using their signature bright red and blue colourings. Ugly tribal tattoos and tacky star tattoos are not on tap here the artists that compromise this place are passionate about serving people who have their own style and want to express it in a tattoo.
Surgeons' Hall | Art & culture | Ticket £ 3/5
Nicolson Street |             +441315271649
Mon – Fri 12:00 – 16:00
This is a museum with a morbid twist. Originally a teaching base for medical students this facility has been transformed into a museum that records curiosities of the body and surgery. This place is not for anyone who feels queasy from seeing severed limbs or extracted tumours preserved in jars. With about an hour so of attractions visitors will be treated to a tour de force of the human body. Some of the highlights include: fetal skeletons, a book made of human skin, and a perfectly preserved tattooed chest.
Red Door Gallery | Art & culture, Shopping
42 Victoria Street | Central |             +441314473255
Mon – Fri 12:30 – 17:30, Sat 11:00 – 17:30, Sun 12:00 – 17:00
The Red Door Gallery is a unique exhibition spot near to the Grassmarket and George IV Bridge. The gallery introduces the public to emerging and independent artists and designers. Items here are affordable and if you purchase you know that you are helping a starving artist.