Today's cruise ships are destinations in and of themselves. These massive vessels are no longer just a nice way to visit multiple exotic destinations at once. Rooms with a view and all-inclusive restaurants have always drawn people to cruise holidays, but the facilities, cuisine and entertainment on the latest cruise liners has far surpassed anything that's come before.
Indeed, if it weren't for the fact that cruise destinations are so brilliant – be they sunny Mediterranean islands or charming Scandinavian ports – passengers might never want to disembark. It may sound silly, but today's cruise ships are close to being 'too' good for their own good! Need convincing? Let's take a look at just some of the on-board attractions offered on cruises these days.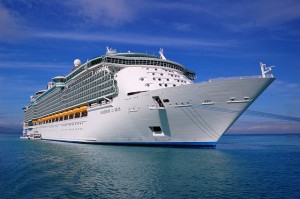 Room to Roam
Those who have never cruised before often fear they'd feel 'cooped up' travelling on a ship for so long. However, it only takes a few minutes of being aboard to realize just how impossible that is. The world's two largest cruise ships are owned by the same company, both belonging to Royal Caribbean. They span an incredible 1,187 feet in length and reach 16 decks high which means there is plenty of room to roam.
On other ships, golf fans can perfect their putting skills on one of Carnival's mini outdoor courses, or if they want to really swing for the trees, they can play on a virtual golf simulator aboard a Cunard cruise liner. Active cruise-goers may also enjoy the ropes course on the Carnival Breeze or trying to stay upright on one of Royal Caribbean's on-board ice rinks. Or for the ultimate adventure, what about zip-lining high above the upper decks?
Boredom: impossible
While active passengers will have no problem finding ways to work up a sweat, modern cruise ships also cater to those with an active mind. For example, passengers on the Queen Mary 2 can star-gaze in its planetarium – the first ever on cruise ship. Those travelling on MSC cruise liners can immerse themselves in a mind-blowing 4D cinema experience. Or, perfect for foodies, Holland America offers passengers the chance to take culinary courses from the ship's chefs.
Of course, something hasn't changed with the advancements of cruise ships is the sea. Nothing beats standing on the deck and watching the ocean sprawl out before you. Sparkling under the glowing horizon, the sea still remains the ultimate attraction, even if the ships have become bigger and better than ever.
Image by tabula_electronica used under creative commons licence