There are few places on the earth that are steeped with as much culture and history as Jerusalem. The spiritual epicenter of many religions Jerusalem stirs up strong emotions in the legions that visit it each year. People walk around the city's Old Town to see buildings and monuments that have been around for thousands of years. Not only a place of history and tradition, the New Town of Jerusalem also offers up contemporary fares as well with great shopping, market places, bars and restaurants. Some great places to check out include: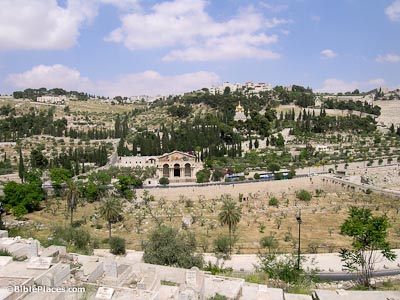 Mount of Olives | Jerusalem
Named for the groves of olives that once covered its slopes the Mount of Olives is still an inspiring sight. A 2,900 foot mountain, the Mount of Olives is opposite of the Old City across the Kidron valley. The mountain has been one of Jerusalem's primary burial grounds for important citizens such as biblical figures like Absalom and Zechariah. Notable sites on the mount include the Dome of Ascension where it is said that Jesus made his last steps on the earth. Beyond religious significance the Mount of Olives gives fantastic views over the city. You can walk to the Mount of Olives in 20 minutes from the Old City.
Mahane Yehuda 
Agripas and Yafo Streets | Jerusalem, Israel
Are you sick of just seeing ancient religious sites while in Jerusalem? If that is the case, then head to Mahane Yehuda which offers a glimpse into modern Jerusalem life. Mahane Yehuda is a thriving marketplace that has all varieties of items including souvenirs, spices, foods and different arts and crafts. The market place is thick with the smell of falafel and the sounds of haggling merchants. Wandering around the market is a great opportunity to try some local foods. The market is busy all week long, but is especially busy on Friday before the Saturday Sabbath which it is closed for.
Yad Vashem 
Har Hazikaron | Jerusalem
Yad Vashem is the world's largest collection of information about the Holocaust. A massive structure that stretches out more than 45 acres Yad Vashem  is comprised of museums and memorials. The Children's Memorial and the Hall of Names are two of the more noteworthy memorials. Visits through the Holocaust History Museum and the Museum of Holocaust Art will remind you of the sobering events of World War 2. Visitors to Yad Vashem praise the building for its thorough and well thought out design and praise the facilities for how tactfully it covers such difficult subject matter. Yad Vashem is open from 9 a.m. to 5 p.m. Sunday through Wednesday and till 8 p.m. on Thursday.