A lot of people decide to make Rome their first stop in Italy and really, they couldn't have made a better choice. Flying into Rome can also be one of the cheaper options. The Italian capital is brimming with opportunities and sites to see for first time travellers or return visitors alike. While I don't advocate trying to do and see everything in just one day, if time is tight and you do have one entire 24 hour period to see the city, I can offer a few suggestions that might make it a little more structured!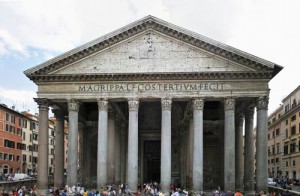 First Stop – Coliseum, Palantine Hill and Forum
Get here as soon as it opens, which depending on where you are staying might require you to get up decently early. You can see the Coliseum in an hour if you avoid the lines that pile up midday and don't gawk too long at the artifacts. After this, avoid the cheesy sleazy gladiators and make your way to the Palantine Hill that just kind of flows into the Forum, taking in the ruins and the breathtaking skyline views from the old quarter. It should be about 10:30 am at this point.
Second Stop – Pantheon, Trevi Fountain, Spanish Steps
As soon as you are ruined-out, follow the signs down the streets for the Pantheon, which you can see in about 10-15 minutes  as it is not very big. Then follow the signs for the Trevi Fountain, which will be crowded (it always is during the day) – snap a few pictures and make a bee line a few blocks over to the Spanish Steps – but watch your bags, it's a prime stealing spot! It should be about noon at this point.
Third Stop – Vatican, Sistine Chapel
Hop on the Metro and take it to the Vatican City, where depending on the day, you may have to wait in line to get into St. Peter's Basilica. Spend an hour walking around (two if you want to climb the dome), before heading out and around to the Vatican Museums where the art and other famous relics are kept. The route to the Sistine Chapel will take time – and because you're likely here at about 3pm it is likely to be very busy, but just follow the crowds and it will all be good.
Fourth Stop – Trastevere
The last stop this day will be much more low key than the insane pace of the previous three steps – and that is exactly what you need. Walk out of the Vatican, through the tunnel and make your way into the side street restaurant piazza area of Trastevere, where you can take it easy with other travellers over some great food and socializing. If you happen to be walking back through the Vatican, now is your time to get those great peaceful views of St. Peter's Square as it will be open but almost completely deserted!