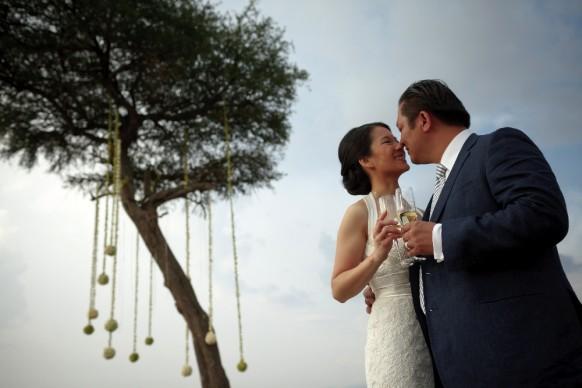 KENYA
Kenya is a land of rich diversities, from towering mountains to the vast expanse of the savannah grasslands, from the Great Rift Valley to the magical coastlines and tiny islands off the Kenyan coast. It has a lot of locations that can form the best romantic location for your wedding. There are numerous resorts and gardens in the mainland for luxurious weddings in Kenya, the lakes provide a scenic location for weddings and the plains form a vastness for jungle weddings. The Kenyan coast is magical with its numerous beaches, some secluded and others crowded but all sharing in unique beauty and romance.
MOROCCO
Morocco offers an exotic destination for romantic weddings. Indeed, it is a land of full of enchanting possibilities, and it is littered with ancient mosques, ruins, bewildering cultures that have endured the passage of time and magical landscapes that linger in the mind forever. A Morocco wedding won't be forgotten quickly!
There are a lot of spectacular locations to exchange your wedding vows, along the pristine beaches with the gentle breeze blowing through your hair, a desert location when the sun is setting and the golden sand dunes bursting with colors from the suns reflections, or wedding in a traditional Riad and mixing your wedding with all the traditional qualities of Moroccan culture.
SANTORINI ISLAND IN GREECE
For a spicy Mediterranean wedding experience, the island of Santorini in Greece will give you the perfect destination for a romantic holiday in the sun. It is a place is filled with amazing beauty both natural and manmade. Whether you want to exchange your vows in the seclusion of a lavish villa, on the pristine shores of the sparkling Aegean, in a charming quaint village or on a towering rugged cliff the venue chances are infinite. To blend into the warmth of the Greek traditions it is wise to choose your wedding color theme to include blue and white!
INDIA
India is vast and diverse with amazing romantic vistas that will leave your jaws wide apart. It has a variety of options for wedding locations, opulent mansions and ancient castles, pristine beaches, lush hill stations, deserts and bustling cities. Picture a serene Goa beach with lush vegetation and clear waters where you exchange your vows in exclusive seclusion. The Kerala backwaters are spectacular offering tranquil waterways, tiny fishing villages and great house boats for a marine wedding experience. If you want wed like royalty then the fine palaces in Rajasthan will be a great option. You can then head straight off on to your honeymoon in India and travel some of the most beautiful areas in the whole world.
AMALFI COAST ITALY
The Amalfi coast is known for all things glamorous. It is the ideal location to commit to your loved one for the rest of your life surrounded by the most beautiful scenes. Imagine being on a gorgeous coastal location, on top of a terrace, overlooking the breathtaking hillside, rustic towns overhanging on the cliffs and a spectacular view of the Mediterranean; such is the endless beauty of the Amalfi coast.
You can wed in exclusive villas, centuries old churches or in a rustic town perched on a rocky cliff for a charming traditional Italian wedding.