Italy is one of the most romantic countries in the world. The language, the music, the food, and of course, that unforgettable atmosphere…. what could be dreamier? Italy is known for being in love with romance. Just think about all of the Italian songs about love, or take a look at all the couples holding hands as they walk down the street. If you're looking for the most romantic spot to visit in Italy, Venice is ideal.
Venice, Italy is known for a lot of things. Romance, yes…but also the bridges and canals. The city itself is surrounded by water, which only adds to that romantic atmosphere. Wherever you go, there is a beautiful view right there in front of you! All of that water also means that there are a number of ways that you can get around. You can wander the streets of Venice and look at the coloured stone buildings. Or, you can take a water taxi or a gondola ride. There really is beauty and romance at every turn!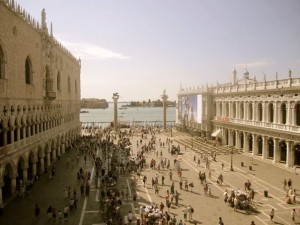 So, what can you actually do while you're in Venice? There are a number of must-see attractions to keep you busy. If you love churches, there are plenty to visit. The most popular is the St. Marks' Basilica. It has large marble pillars, a domed exterior, and an array of detailed mosaics on the inside. Even better is the fact that you don't have to pay for admission.
If churches aren't your thing, you can still experience a little history. One of the most travelled areas in Venice has to be St. Mark's Square. Not only is it a breathtaking sight to see, but there is also fine dining in the area as well. To avoid the crowds, don't head there during the daytime. Instead, visit early in the morning or in the evening. The throngs of people will have thinned out and you'll be better able to experience the sights.
To get a little taste of everything, the Grand Canal Tour may be a good choice. This is more or less like a bus tour. Except, in Venice, you travel by water bus instead! You can go on a guided tour or pick up a guidebook of your own to take note of all of the sights you pass. Regardless, you are sure to enjoy the view!
Don't forget about the food. If you're in Venice (or anywhere in Italy, for that matter), you need to eat well. There is the Rialto Market to experience or you may just want to order some traditional gelato. If a romantic dinner for two is more your thing, there are countless restaurants to choose from. Make the night special by having a little wine and indulging in some delicious Italian food. Remember, in Italy, things are a little different. Instead of rushing through your meal, take your time and really enjoy the dining experience. It will only add to the romance.
There's nothing like a beautiful view to make a vacation special. If you're looking to add a little bit of romance into your next trip, Venice is one stop you won't want to miss. Go Italian…you're sure to remember it for years to come.