If you're looking for a city break destination that gives you plenty of things to see and do, Venice is one place that ticks all the right boxes. Head to this north-eastern Italian city and you certainly won't run out of activities and attractions in a hurry.
If anything, there's so much to take in that it may be difficult to decide exactly where to go and what to do first. Don't fear though, as help is it at hand! Once you've taken care of essentials such as booking a flight to Venice (something which you can do by clicking here) and sorting out hotel accommodation, you can start planning what to do in earnest. Here are of some of the things that are particularly worth your attention.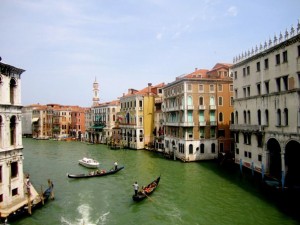 Go on a Gondola Ride
Venice is famous the world over for its intricate set of waterways – in fact, it's often referred to as the city of canals – and the best way to experience them is to take a ride along on a gondola. This is a fantastic chance to take in the beautiful local architecture, enabling you to travel at a much more leisurely pace compared to riding around on a motorboat.
Numerous companies run gondola routes through the city, so you should find it is relatively easy to get about using this kind of public transport. Alternatively, you can take a private gondola ride where a local expert will navigate you through Venice's canals. This is a particularly great activity for couples keen to go on a romantic break, though you should be prepared to pay higher fares to do so.
Wander around Doge's Palace
Widely considered to be one of Venice's greatest landmarks, Doge's Palace is one place that we definitely suggest you visit. Established in the 14th century, this was initially designed to be the official residence for the Doge of Venice – who was the leader of the city back when it was an independent republic – though it has acted as a museum since the 1920s.
Situated in Piazza San Marco, this stunning building contains a wealth of fascinating rooms and suites you can visit. These include the Grimani Room, which contains an intricate fireplace and paintings from Andrea Vicentino, and the armoury. In the latter you'll discover a range of military memorabilia, including finely-decorated halberds and 16th century swords. You'll definitely be in good company when you come to the attraction, as more than one million people visit it every year.
Take in the hustle and bustle of Piazza San Marco
After you've explored Doge's Palace, you should head back into Piazza San Marco. This is the city's largest public square and has been referred to as 'the drawing room of Europe' in the past, so it's a great place to soak up the hustle and bustle of Venice.
With a number of cafes and restaurants lining the square, this is a fantastic spot in which to grab a coffee and watch the world go by. Concerts and other events regularly take place here, so you should keep an eye out to see if anything special will be happening while you are in the city.
Soak up views from the top of the Campanile
If you've got a head for heights, you should take a trip up to the top of the Campanile. At 325 ft high, this is the tallest building in the entire city and was originally constructed in 888 AD. Although the structure collapsed in 1902, an exact replica was soon rebuilt in its place.
Climb up to the building's summit and you will get to take in amazing views of the city and – if it is a clear day – see out as far as the Dolomite mountain range.
Visit the Ca' Rezzonico
Culture lovers won't be short of museums to visit while in Venice, though the Ca' Rezzonico is especially illuminating. Dedicated to showcasing 18th century Venetian art, this institution is housed in a beautiful palace that once belonged to the wealthy Rezzonico family.
Step inside and you'll be enthralled by the great range of art on display, which includes a fresco painted by Giambattista Tiepolo. You can also take in works by Bernardino Castelli, Gian Antonio Lazzari and Marianna Carlevarijs, so there should be plenty to catch your interest.