Brighton is a fun place with a liberal, exuberant atmosphere. The following list will give a few, though no where even close to be exhaustive, list of things to do around town if you visit. Beyond any list be sure to snatch up a sampling of the bars, restaurants, and shopping lanes about town.
1) Go to the Brighton Pier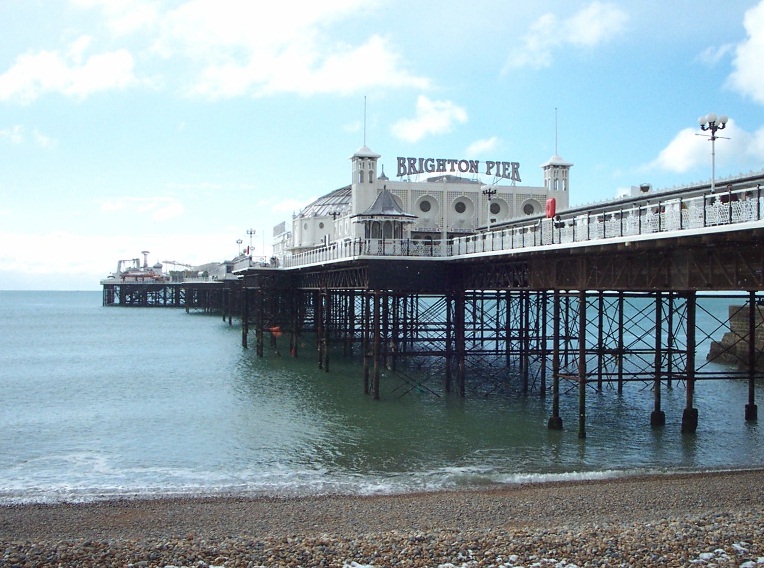 Perhaps there is a little cheesiness to it, but anyone who visits Brighton must see the Brighton pier. Filled with different amusement park rides, hook a duck booths, and candies galore the Pier was one of Brighton's original attractions to the people of London coming down to the sea side for the day. There in nostalgia here mixed with modern fun.
2) Have a Wander down North Lane
The most chic and varied shopping in Brighton takes place on the North Lane. Just left of the train station entrance along Trafalgar Street are the Lanes. The three main streets are Sydney Street, Kensington Gardens, and Gardner Street. Be sure to check out Snooper's Paradise, which recreates a Camden style alternative market right here in Brighton.
3) Visit the Museum of Natural History
What makes this museum interesting is that it is a museum for a museum. What this means is that its founder Victorian ornithologist Edward Booth built a private collection of over a half a million insects, animal skeletons, and stuffed birds. The specimens often are stuffed and posed in "re-creations" of their natural environment – sometimes to amusing effect. Hipsters come to this exhibit to have a laugh.
4) Look for Old Vinyl LP's
Brighton is a vinyl lover's dream. There are still plenty of places to buy records here. A few of the best include:
"Rounders" is the Brighton's oldest record store and befittingly has a great selection of old and new records.
"Resident",  which is nearby, doesn't have the vinyl selection of Rounders, but is the place to by gig tickets in Brighton.
"Trafalgar's Street Wax" is the place for used vinyl and books about music.
5) Soak in a little of Brighton's vibrant arts scene
Just adjacent to the Royal Pavilion – which should be checked out in its own right in Brighton – is the Brighton Museum & Art Gallery. This gallery holds pottery, fine art, and contemporary paintings. If you'd prefer to see independent galleries on your own go to Upper North Street as the adjoining Montpelier Place is developing into an artists' quarter. Shop fronts in this area now accommodate studio boutiques, rug and bag makers, printmaking shops and all else creative….