Lake Garda has long been associated with the rich and famous, being the destination of choice for many movie stars of yesteryear. The area also draws the crowds for its rich history, however, and this is something I've been researching in detail.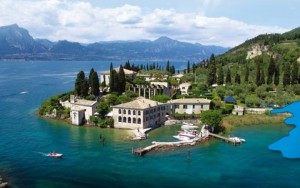 Italy's largest lake is surrounded by hills, mountains and towns, where age-old settlements have been discovered. Roman ruins and medieval relics have all been unearthed around the lake and beyond, and there are cave drawings and well-preserved dinosaur footprints to take in on a Garda history holiday. Keep reading for some of my top picks.
Villa Romana
The west coast town of Toscolano Maderno is definitely worth visiting during a getaway to Lake Garda, as the settlement is home to a Roman villa thought to have been built by Publius Nonius (public governor) Asprenate in 38 AD. Remnants of the beautiful villa can be seen by the habourside, along with some fragments of frescoes and mosaics, which are displayed inside.
Scaliger Castle
One of Lake Garda's most popular historical attractions is Scaliger Castle of Torri del Benaco, which dates back to the late 1300s when it was built on the site of a previous fortress. The castle has been restored in recent years and is an awe-inspiring sight to behold. Inside, you'll find an interesting museum, comprising many rooms dedicated to local trades throughout the ages.
Take a look at boatbuilding regalia and admire a replica olive press, and explore the Rock Engravings Room, which displays through maps and casts a number of engravings found locally, some of which date back to prehistoric times.
Grotte di Catullo
Behind the castle lies the old town of Sirmione, and it's here you'll find the vast ancient ruins of a Roman villa. Covering an area of almost 5 acres, the site resembles a series of grottoes, hence the name, and is believed to have been built for a wealthy family. In addition to the ruins, there's also a small museum you can visit to learn more about the area's history and view excavated items such as coins, tools and segments of mosaics.
Marocche Biotope
The Marocche Biotope was generated by landslides and is a protected area of land renowned for its peculiar terrain and giant rocks. There is a path through the biotope where you can admire the huge boulders and, at the easternmost section of the area, you'll also be able to see footprints left behind by dinosaurs.
You'll need to look carefully if you want to spot the footprints, as the calcified rock in which they were found is ever degenerating. Discovered in 2000, the footprints were left by a carnivorous dinosaur and also by a herbivore, thought to measure between 6 and 7 m in height.
Borgo Mediveale di Canale
The medieval village of Canale di Tenno is a must-visit for history buffs; situated on a mountainside between Lake Garda and the Alps, the charming settlement boasts antique arcades, winding narrow pathways and tall stone houses built directly next to one another that are unchanged from the 13th century.
Now, the village is popular among artists and is home to the Casa degli Artisti, where artists regularly meet. The village also offers exceptional views of Lake Garda from a height of more than 400 m.