There are places you visit for the view, places you visit for the attractions, and places that you visit for the food. Most of us love to eat great food. When you travel, that is no different! There is something special about experiencing authentic food from different countries. With so many places in the world, there is so much unique cuisine to try! To get you inspired, here are some of the best places to eat in the world: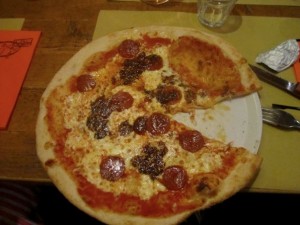 Italy
There is no better way to start a food destination list than with Italy. Italy is known for it's spectacular views and historical areas. However, it is also known for the incredible food. If you've got a sweet tooth, there is nothing better than some real Italian gelato. When it comes to food, Italy is also known for having fantastic wine, aged meats and cheeses, as well as pasta, and seafood. It doesn't matter where you go in Italy – you can find great food around every corner!
South of France
It wasn't just Julia Child that loved the South of France. Food lovers from all over the world can't get enough of this amazing food destination. They are known for using high quality ingredients in each and every dish. That's why there are so many fresh fruit and vegetable markets as well as popular butcher shops and cheese stores. If you love fresh bread, the South of France is a place you will certainly want to visit. When bread and butter sound like a luxurious treat, you know that the food is great.
Mexico City
You may not think of Mexico City and think about unforgettable food. However, this area is gaining in popularity when it comes to fine dining. There are so many fantastic restaurants to choose from! Or, if you're more into markets and street stands, there are also many of those on hand. One of the more popular things to eat in Mexico City is the Hurache. This is an item made from fried masa dough that is then topped off with meat. Sounds, delicious, right?
Morocco
What could be better than a little Moroccian food? They have diverse culture that blends Arab, European, and Berber together. That means that their food has a fantastic and unique blend of flavours. There are some things that may be a little too extreme for you (like a steamed sheep's head…yikes!) but there are still some fantastic dishes to try. Chicken brochettes flavoured with spices and pan fried bread are popular, as are super sweet desserts. There's a little something for every taste palette.
Taipei
If street food is something you love to try, Taipei cannot be missed. They have noodle soups, dumplings, and steamed buns. Delicious! The food has influences from both Chine and Taiwan, so there are always great seasonings on all the foods. One of the most popular items in Taipei is the Gua Bao. It is braised pork on a steamed bun, flavoured with cilantro, chopped peanuts, and pickled mustard greens. You won't find anything like that at home.
Foodies, unite! If you love eating food from different places, consider these ultimate food destinations when you're planning your next trip. You're sure to be full – and loving every moment of it.