Ever since the days of Woodstock immortalized the idea of the pivotally important, ultimate music festival, Americans have been perfecting the art of large scale festivals for music lovers. These days it's easier than ever for the wandering music seeker to enjoy several festivals all over the US. Here are a few of the biggest: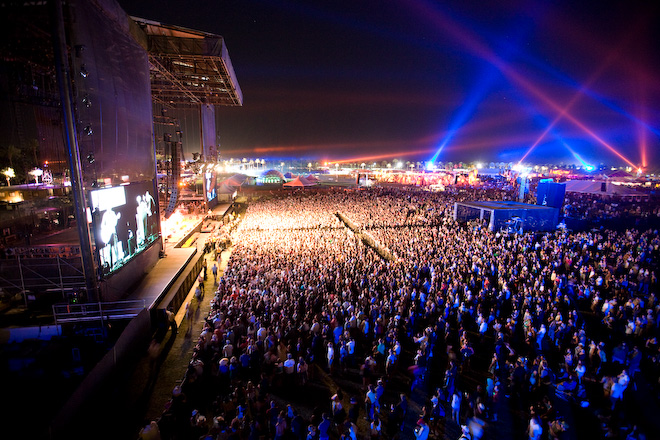 Coachella: One of the highlights of festival season, Coachella is a heavy hitter that consistently attracts huge names and prestigious acts to the festival ground in Indio, California. The atmosphere is hop, quirky and artistic, despite the inclusion of musical acts ranging from pop, to hip-hop, to country and indie rock. Sculpture and modern art installations can be seen scattered throughout the grounds. The 2012 festival was famous for a performance by a hologram of Tupac Shakur.
Lollapalooza: The grandfather on the current festival scene, Lollapolooza has been popular since the early 90s. This huge festival has a decidedly rock flavour and attracts some of the biggest names in rock, metal and alternative genres to Chicago for a weekend in early August. In early years acts like the Red Hot Chili Peppers, Nine Inch Nails and the Violent Femmes performed, and in more recent years legends like Pearl Jam, Joan Jett and the Balckhearts, and Black Sabbath have hit the 29 stages of this now massive event.
Pitchfork: Also located in Chicago, the Pitchfork music festival cannot rival Lolla in terms of crowds and music legends, but this is one of the most highly respected independent music festivals in the US. Put on by the tastemakers at Pitchfork Media, the festival is great for its low ticket prices, hipster-watching and great indie rock (see bands like Modest Mouse, Sleigh Bells and Pavement)
Bonnaroo: Possibly the most uniquely easy-going music festival atmosphere in the country, Bonnaroo is an environmentally conscientious, sometimes psychedelic, wildly popular festival in Manchester Tennessee. Providing a full range of musical genres (pretty much anything goes!), Bonnaroo has played host to many of the same blockbuster acts as Lollapalooza and Coachella, but introduces an element of the unique with features like the "silent disco", wherein a DJ plays music to a crowd of headphone-wearing listeners inside a tent, creating the impression that everyone is dancing without music. Bonnaroo also features celebrated comedy acts, art installations and more food outlets than its contemporaries.