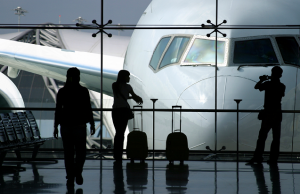 Airports – don't you just love them? Whilst they serve as a gateway to your holiday destination of choice, they are also huge, busy, and full of stress. I'm not a fan of travelling to my holiday destination, I'd rather click my fingers and be there in an instant, but unfortunately that's not the way of the world!
If you're not used to what goes on during the check in, security, and waiting part of the airport business, then it can be a little daunting, but really, it's about be prepared, staying calm, and just going with the flow. The best way to keep yourself one step ahead, is to check your up to date flight information before you leave the house. This is the best way to find out which terminal you need to be at, how many hours before your flight you need to arrive, and anything else that might be pertinent. Forewarned is forearmed!
When you arrive at the airport, suitcases in hand, you will no doubt walk into a rather busy check in hall, with noise, plentiful other suitcases, and screens. Don't panic! It's easy!
All you need to do is look at the screen, find your flight number, and head to the desk number it is showing. Hopefully your check in will be open and you can just queue and wait. Once you've waved goodbye to your suitcase, and it is trundling off to meet your plane, you need to head to security, to get it out of the way.
Now, many people find security a little daunting, but that's only because it's fast moving and if you don't know what you're doing, it can seem overwhelming. However, the staff will direct you, so simply follow instructions. You will need to remove belts, jackets, often some jewellery, and sometimes your shoes, and put these on the conveyer belt to be scanned, along with your hand luggage. You will then need to walk through the scanner yourself, and then wait for your bag to come out the other side.
Job done!
What's left is then the fun part, although it is also where most of the waiting comes into play, and therefore where you will probably spent the most money! I am of course talking about duty free.
Once you've checked in and past security, you are free to enjoy the bars, restaurants, and shops before your plane departs. Keep a close eye on the screens, and as soon as you get a gate number for your flight, make sure you head there, and don't delay. You might think you have time, but often boarding is a speedy process, and can begin quite quickly. Don't risk causing a problem with your flight, and obviously, the sooner you're on the plane, the quicker you'll be in your resort by getting the SFO airport limo service which are extremely clean and speediest drive from airport departure to destined resort.
What's left to do then?
Well, sit back, relax, and happy holidays!