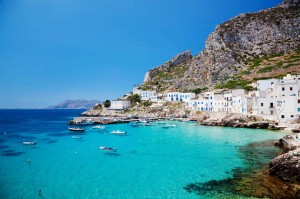 Italy is the country of sun, art, great food, warmth of people. Italy is the country of football and spaghetti, even the country of paradoxes… but let's say it: Italy is also the country of Sicily!
Sicily is like the Caribbean, but less popular, less spoiled. And more authentic, more truthful, with all its contradictions. And, last but not least, Sicily is very cheap! You can find nice accommodation right in the center or close to the sea for a few pennies (try www.sicilyholidayfinder.com), or beach restaurants and trattorias to taste best specialties and spend less than a fast food!
Then, why choose Sicily as holiday destination? Let's try to find 4 reasons!
1.000 km coastline
Whether you like sandy beaches, white or golden, or rocky coastlines for diving or snorkeling; whether you are looking for lidos to rent sunbed and parasol or free beaches to feel free to play with friends beach soccer or volleyball; whether you love those isolated beaches or coves, surrounded by nature reserves, where the only sound you can hear is birds and sea; whatever you're looking for about sea, Sicily has (and is) the answer.
Greatest food ever
Have you ever heard about cannoli and cassata? Well, that's just the beginning! In Sicily you can go anywhere and find everything to satisfy your hungry soul! The best? Street food in Palermo, of course! Here you can try the Arancine, rice balls with meat sauce and deep fried! The bravest can taste the pane con milza, a kind of sandwich with spleen, polmon and something else (please don't ask what), cooked in lard sauce and seasoned with lemon or cheese.
The restaurants? Wonderful and cheap! You can have a full dinner, with starters, first course, secondo course and desserts, beverage included, right in the center of Palermo, for less than 20 euro each! And you can choose among the best specialties, such as Bucatini con le sarde (pasta with sardines), or Spaghetti with sea urchins and much more!
Cities of art
Palermo and its Cathedral, its churches, the Norman Palace and the Palatine Chapel; Taormina and its Greek Theatre, Agrigento and the Valley of the Temples, Catania and the Volcano Etna… and still Ragusa and Val di Noto for the best baroque art in the world, Syracuse with its Archaeological Park of Neapolis, the Cathedral and Ortigia… there's plenty of places, of unique masterpieces, which bear the marks of hundreds of populations passed here during the centuries.
People and folklore
It is not a commonplace: sicilian people are exactly the way it is said they are. Impressive gesticulating, always smiling, they look like having the sun on their faces! You can see them as always partying especially in the typical local markets, such as the Ballarò and Vucciria in Palermo: scents, colours, flavors, are all concentrated in small streets crwoded as in a party of traditions and authenticity.
There's always a festival somewhere in Sicily. Would you like to join?