New York City's dizzying array of world-famous places to visit can leave visitors, especially first-timers, both spoiled for choice and a little shell-shocked. Whether you're returning or taking your first bite of the Big Apple, be sure to put these five must-see landmarks on your sightseeing list in New York itinerary.
1. Empire State Building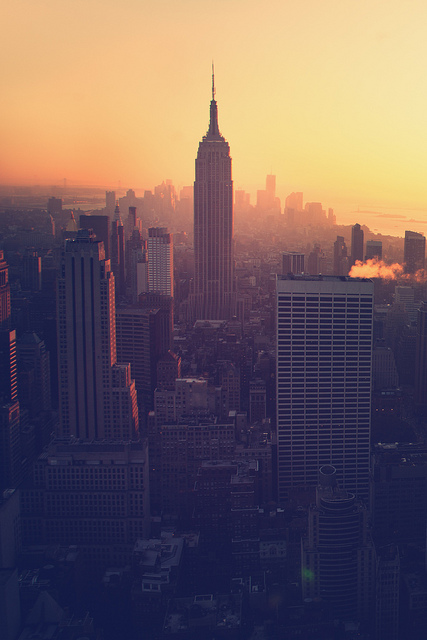 "'The Empire State', United States, New York, New York City, Empire State Building" by Chris Ford is licensed under CC BY-NC 2.0
One of the world's most iconic constructions and a symbol of the city, the 102-story Empire State Building stood as the as tallest building on the planet for almost four decades after being completed in 1931. Although known primarily for its superb views of New York, the landmark's special exhibits and striking Art Deco interior contribute to its enduring popularity. A short elevator ride takes you to the observation deck on the top floor, where you can enjoy 360-degree views. But lines for the observation area are almost as legendary as the attraction itself. If your holiday itinerary planner leaves you pressed for time, opt for a visit to the 86th-floor deck, which is open-air and offers comparable views.
2. Metropolitan Museum of Art
"NYC – Metropolitan Museum of Art – Annual Christmas Tree and Neapolitan Baroque Crèche" by Wally Gobetz is licensed under CC BY-NC-ND 2.0
No New York vacation is complete without a trip to some of the city's first-class museums, and few institutions are more prestigious than the Metropolitan Museum of Art. The largest museum in the United States, the Met is also one of the most important centers of art and culture in the world. The museum's permanent collection of over 2 million works includes a wealth of items from Ancient Egypt, paintings and sculptures by nearly all the European masters, and an incredibly valuable collection of modern art. With so much to see, it can be hard to know where to begin, so consider a using a vacation trip planner to have guided tour of the highlights to make the most of your visit.
3. New York Public Library
"New York City, New York Public Library NYPL, Stephen A. Schwarzman Building, 1897-1911 : 'Rose Main reading Room'" by Vincent Desjardins is licensed under CC BY 2.0
New York owes a large part of its iconic status and sightseeing appeal to its wealth of architectural offerings. The flagship New York Public Library building, opened in 1911, is considered one of the city's most beautiful attractions. Admire the grandeur of its white marble exterior before passing through the famous entrance, guarded by two stone lions, to explore the renowned building. The library not only boasts a rich literary collection but also draws tourists with its fine interiors. The Rose Main Reading Room, roughly the length of two city blocks, features painted ceilings adorned with grand chandeliers, long oak tables, and walls lined with thousands of reference books.
4. Chelsea Market
"Chelsea Market, New York City" by Marco Derksen is licensed under CC BY-NC 2.0
One of the culinary capitals of the world, New York City is a hub of flavors, smells, and sensations. Tour the bustling Chelsea Market to indulge in its amazing array of artisan breads, fruit sushi, decadent doughnuts, gourmet sandwiches, colorful cocktails, and more. Located in the heart of the famous Meatpacking District, the market is set in the same factory where the Oreo cookie was invented and first produced. Once you've exhausted your taste buds by sampling your way through the 35-plus vendors here, head over to one of the artists' stands to pick up a holiday souvenir.
5. Staten Island Ferry
"Staten Island Ferry" by Nicki Mannix is licensed under CC BY 2.0
Primarily intended to provide transport for Staten Islanders to and from Manhattan, the Staten Island Ferry has become a popular sightseeing tour, offering some of the best views in the city. Commuters and tourists rub shoulders on this free 25-minute boat ride, passing Ellis Island and the Statue of Liberty while edging close to the skyscrapers and bridges of Manhattan. You may not know it, but you're embarking on both an iconic and historical journey–rudimentary versions of a ferry service have existed here since the 18th century. For the best views of NYC's top tourist attractions, ride on the right-hand side of the boat from Manhattan to Staten Island and on the left for the return journey. Bring your camera for shots of the city's landmarks.
London native Rosanna Young is currently based in Tbilisi, Georgia.